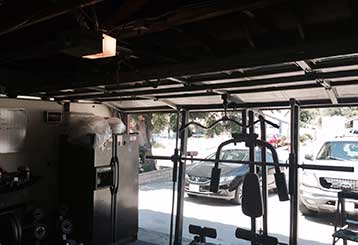 A well looked after garage door is critical for the protection and maintenance of your car and other valuables you keep in your garage. If not properly and regularly maintained, these systems can become pretty dangerous quickly, and also quite costly to fix.
Check The Door's Balance
You should check that your door is properly aligned and balanced. It should move up and down easily without faltering. If it is not moving up and down in a smooth and even fashion, this could indicate a problem. An unbalanced door will not shut properly - if it leaves a gap, even a small one, this could easily be exploited by potential home invaders or animals looking for shelter. Further, you don't want to risk the chance of rain water flooding your garage space.
Are The Springs Well Lubricated?
Your springs provide the counterbalance needed to lift and close your garage door. Due to their constant use, even the most durable of springs are bound to experience wear and tear over time. To prevent any sudden accidents or breakdowns, our technicians will inspect your garage door's tension springs and apply any lubricant needed. If we see that your springs are about to break due to years of use, we will advise and recommend a replacement before they fail completely.
How Do The Safety Sensors Look?
Another part of limiting hazards from developing includes checking the safety reversal system. Your opener uses photo-electric "eyes" to detect an obstacle in the door's path, they function as safety sensors. If your sensors don't cause your door to reverse when something is clearly in its path, then this can indicate a realignment or cleanliness issue. We can help make sure your sensors don't go 'crossed-eye' on you.
Contact Us Today
It's time to call our professionals at Garage Door Repair Justin. We'll make sure your door is well-maintained and we'll address the small issues before they grow into big ones. Just get in touch today!
When it comes to your door, we don't settle! We also offer:

Part Replacement & Repair

Garage Door Off Track Repair

Belt Drive Opener Installation

Emergency Broken Spring Replacement